AFSC 18
Battery-powered oscillator
Order no. 7 136 02 24 23 0
Return to overview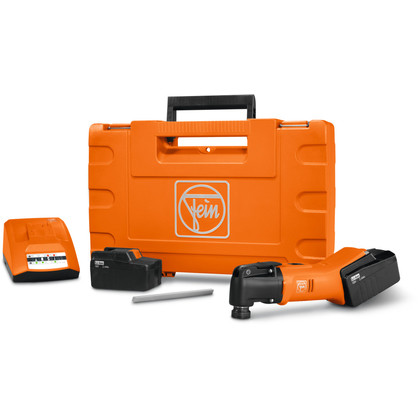 The high-performance battery-powered oscillator with quick clamping system for the automotive industry.
Same performance as the mains-powered tool, with outstanding work progress for professional use in a large number of tasks/sectors.
Powerful 18 V Li-ion batteries with charge control display.
State-of-the-art Li-ion technology with individual cell monitoring.
Quick charger with 25-30 minutes of charge time for continuous working without interruption.
All FEIN SuperCut accessories can be used.
Convenient QuickIN quick clamping system.
Outstanding FEIN quality and stability.
Designed for continuous use and high loads.
Factory-recommended by leading automobile manufacturers.
Continuously variable speed.
Hexagonal tool holder for optimum torque transfer.
Supplied with training DVD.
Included in price
1 battery-powered FEIN SuperCut AFSC 18 in plastic tool case

1 sharpening stone (6 37 19 010 01 4)

1 protective cover for tool changes

2 battery packs (Li-ion)

1 battery charger
Technical data
Battery voltage18 V
Battery capacity4 Ah
Oscillations11 000-18 500 rpm
Weight with battery2,0 kg
Amplitude2 x 1,7 Degrees
Show all technical attributes