KBM 65 QF
Metal core drilling unit up to 65 mm
Order no. 7 270 28 00 23 1
Return to overview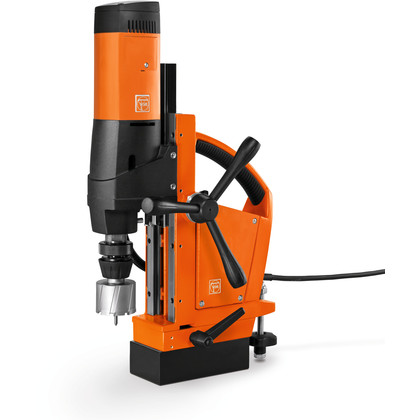 Powerful core drilling unit with fine adjustment for the workshop.
Powerful for use in tough applications, such as core drilling up to Ø 65 mm or thread cuts up to M20.
Flexible tool use and high concentricity precision through combination of QuickIN and MK 3 adaptors.
Continuously adjustable double dove-tail guide enables use of long drilling tools without removing the machine from the workpiece.
Fine adjustment of drill spindle for easy alignment of machine without constantly removing and refitting the magnet.
Optimum power-to-weight ratio.
Mechanical two-speed gears.
2 electronic speed steps per gear.
Speed-controlled tacho electronics.
Powerful electromagnet.
Integrated cooling lubricant unit.
Electronic overload protection.
Restart protection.
Superb service life.
Wide range of accessories.
Included in price
1 case

1 cooling lubricant pump

1 lashing strap

1 swarf hook

1 3-jaw chuck up to Ø 13 mm

1 QuickIN adaptor for M18 x 6 P 1.5

2 centering pins

1 drift key

1 contact guard
Show all
Technical data
Carbide core drill bit max. diameter65 mm
Core drill, drilling depth max.50 mm
Twist drill max. Ø23 mm
TappingM 20
Countersinking max. Ø50 mm
Show all technical attributes
Downloads