KBC 35
Compact magnetic core drill for up to 35 mm
Order no. 7 272 15 61 24 1
Return to overview





Extremely small and light single-speed compact magnetic core drill with right-angle drive and minimum dimensions for use in tight spaces in the workshop and on the construction site.
Extremely small and light for working in tight and difficult-to-reach spots - including vertically and overhead - thanks to height of 169 mm.
Extremely low wear and long-life tool design with spindle sleeve feed without clearance for accurate drilling results in tough use in industry and manual trades.
Speed stable 1100 W FEIN high-power motor with tacho electronics and forward/reverse running for quick work progress in all applications such as core drilling, twist drilling, tapping and countersinking.
Fixed drill motor for working in tight spaces.
High gearbox positioning for optimum view of the drilling point.
Space-saving operation on both sides with ratchet.
Easy tool positioning as it weighs just 7.5 kg.
Tilt sensor.
Simple operating concept avoids mix-ups and can be clearly seen by the user.
Convenient magnetic holding force display.
Electronic speed setting.
Internal cooling lubrication by means of hand pump.
Speed saving "memory function".
Included in price
1 x 3/8" ratchet

1 x 3/8" socket wrench extension

1 x coolant pump

1 lashing strap

1 swarf hook

1 centering pin

1 contact guard

1 additional handle

2 x 5 and 8 mm hexagon socket wrench

2 x 5 and 8 mm hexagon socket wrench with T-handle

1 case
Show all
Technical data
Input1 100 W
Output550 W
Speed, full load130 - 520 rpm
Twist drill max. Ø16 mm
Core drill, drilling depth max.35 mm
Show all technical attributes
Downloads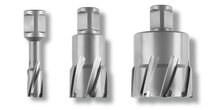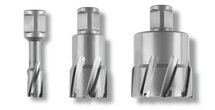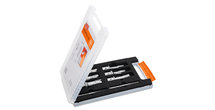 Best of core bits 3/4 in Weldon
Very long service life and outstanding cutting performance. Metric dimensions, cutting depth 35 mm.
Set version, consisting of 6 core bits with diameters of 12, 14, 16, 18, 20 and 22 mm (cutting depth 35 mm) and 2 centring pins (105 mm) in plastic case.