JCM 312 U
Magnetic Base Drills up to 2 9/16 in (65 mm) 3 1/8 in (80 mm)
Order no. 7 270 38 61 12 0
Back to overview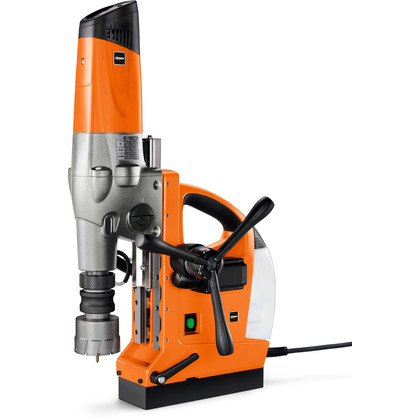 High-performance, smart, fully automatic 3-speed machine for maximum efficiency in the workshop.
Stable speed, even in the toughest applications.
Fine drill spindle adjustment for convenient machine alignment.
Double drill motor guides enable use of the largest annular cutters.
Reversible.
Electronic speed control.
MK3 interface.
High magnetic holding force.
Convenient magnetic holding force gauge.
Integrated cooling tank.
Mechanical 3-speed gearbox.
Automatic coolant supply.
Torque slip clutch.
Price includes
1 case

1 coolant tank

1 safety strap

1 chip hook

2 pilot pins

1 touch guard

1 drift

1 QuickIN MAX/ MK3 tool mount
Show all
Technical data
Carbide annular cutter max. dia.3 1/8 in
HSS annular cutters max. dia.2 9/16 in
Mag base, max. drilling depth2 in
Twist drill max. dia.1 1/4 mm
Tapping1 1/16 in
Show all technical attributes
Download