JCM 200 U
Magnetic Base Drills up to 2 in (50 mm)
Order no. 7 270 44 61 12 0
Back to overview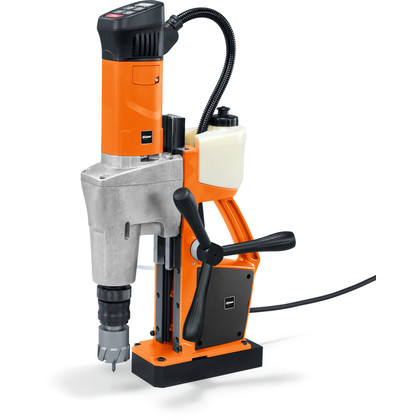 Universal with 2-speed gearbox and outstanding functionality for flexible operation in the workshop and on the construction site.
Compact with high functionality for universal use on the construction site and in the workshop.
Simple and error-proof control concept in the operator's field of view.
Double drill motor guides enable use of the largest annular cutters.
Reversible
Electronic speed control.
Slugger high-power motor with stable speed.
High magnetic holding force.
Convenient magnetic holding force gauge.
Integrated cooling tank.
Hand feed wheel can be mounted on either side.
MK3 interface.
Optional Weldon QuickIN arbor is available. (uses standard 3/4 in Weldon shank cutters).
Price includes
1 case

1 coolant tank

1 safety strap

1 chip hook

1 pilot pin 4 1/8 in (105 mm)

1 touch guard

1 drift
Show all
Technical data
Carbide annular cutter max. dia.2 in
HSS annular cutters max. dia.1 9/16 in
Mag base, max. drilling depth2 in
Twist drill max. dia.7/8 mm
Tapping1/2 in
Show all technical attributes
Download