KBM 80 U
Mag Drill unit up to 3-1/8 in
Order no. 7 270 34 09 36 0
Back to overview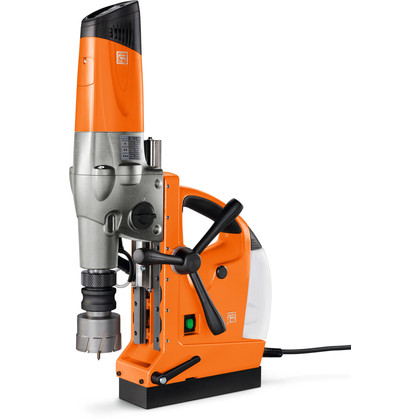 High-performance with 3-speed gearbox and outstanding functionality for universal and efficient use in the workshop.
Stable speed, even in the toughest applications.
Fine drill spindle adjustment for convenient machine alignment.
Double drill motor guides enable use of the largest core bits.
Reversible.
Electronic speed control.
MK3 interface.
High magnetic holding force.
Convenient magnetic holding force gauge.
Integrated cooling tank.
Mechanical 3-speed gearbox.
Automatic coolant supply.
Torque slip clutch.
Technical data
Carbide annular cutter max. dia.3-1/8 in
HSS annular cutters max. dia.2-9/16 in
Mag base, max. drilling depth2 in
Twist drill max. dia.1-1/4 in
Tapping1-1/8 in
Show all technical attributes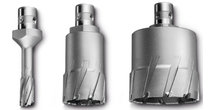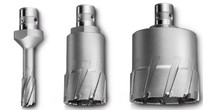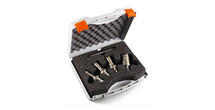 Carbide Ultra 2" core bits with QuickIN shaft
Maximum service life and outstanding cutting performance. Imperial sizes, Cutting depth 2 in.
Set consisting of 4 core bits, 9/16 in, 11/16 in, 13/16 in, 15/16 in diameter, (drilling depth 2 in) and 1 centering pin (4-1/8 in) in a plastic carrying case.