ABOP 10 Select
Power drill (cordless) up to 3/8 in
Order no. 7 105 02 62 00 0
Back to overview

FEIN Select+ offers you the possibility to combine several 18 V cordless machines for professional metalworking as required - with or without FEIN batteries and chargers.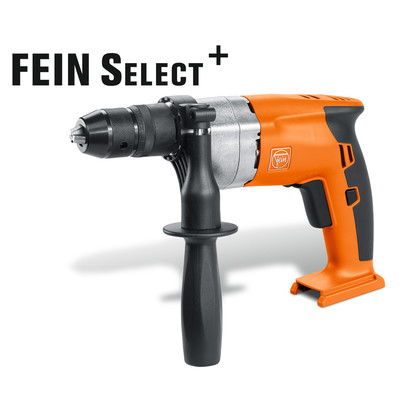 Compact, stable-speed power drill (cordless) with 3/8 in [10 mm] capacity in steel for installation work on site.
Highest quality, cordless power drill with high concentricity for precise drilling results.
Maintenance-free, brushless EC motor with high efficiency and speed stability.
Flat, slim design requiring little clearance in corners, for installation work, even in tight locations and in corners.
Metal gear head.
Precision metal 3-jaw chuck.
Retracting chuck jaws.
Automatic spindle lock and single-shell, rapid-clamping chuck.
FEIN Sensitive Handle.
Electronic start.
Reversible.
Price includes
1 Supra SKE single-collar, metal, fast-acting 3-jaw chuck

1 handle

1 tool case
Technical data
Battery voltage18 V
Full load speed0-1,100 rpm
No load speed0-1,250 rpm
Full load torque97 in/lbs
No load torque168 in/lbs
Show all technical attributes
Download