ABOP 6 Select
Power drill (cordless) up to 1/4 in
Order no. 7 105 01 62 00 0
Back to overview

FEIN Select+ offers you the possibility to combine several 18 V cordless machines for professional metalworking as required - with or without FEIN batteries and chargers.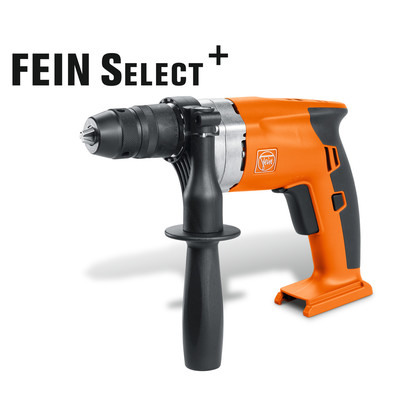 Fast, single-speed power drill (cordless) with up to 1/4 in [6 mm] drilling capacity in steel and excellent speed stability for metal construction.
Highest quality, cordless power drill with high concentricity for precise drilling results.
Maintenance-free, brushless EC motor with high efficiency and speed stability.
Optimum speed for smaller diameters and therefor increased productivity through greater machine efficiency.
Metal gear head.
Precision metal 3-jaw chuck.
Retracting chuck jaws.
Automatic spindle lock and single-shell, rapid-clamping chuck.
FEIN Sensitive Handle.
Electronic start.
Reversible.
Price includes
1 Supra SKE single-collar, metal, fast-acting 3-jaw chuck

1 handle

1 tool case
Technical data
Battery voltage18 V
Full load speed0-2,900 rpm
No load speed0-3,350 rpm
Full load torque35 in/lbs
No load torque62 in/lbs
Show all technical attributes
Download