AFSC 18
Battery-powered oscillator
Order no. 7 129 27 60 00 0
Back to overview

FEIN Select+ bietet Ihnen die Möglichkeit, mehrere 12/18 V Akku-Maschinen für die Profi-Metallbearbeitung nach Bedarf zu kombinieren – mit oder ohne FEIN Akkus und Ladegeräten.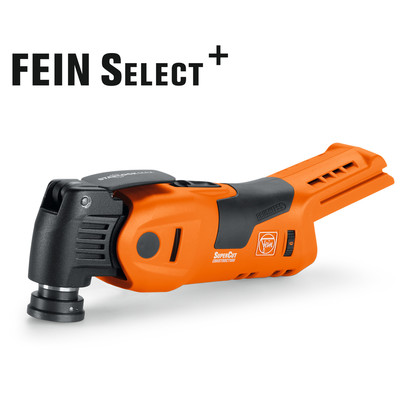 The most powerful cordless oscillator with rapid clamping system for interior work and renovation.
Same performance as the mains-powered tool, with outstanding work progress for professional use in a large number of tasks/sectors.
Powerful 18 V Li-ion batteries with charge control display.
State-of-the-art Li-ion technology with individual cell monitoring.
StarlockMax tool mounting with outstanding torque transfer, suitable for all Starlock, StarlockPlus and StarlockMax accessories.
All FEIN SuperCut accessories can be used.
Convenient QuickIN quick clamping system.
Outstanding FEIN quality and stability.
Designed for continuous use and high loads.
Electronic speed control.
Included in price:
1 FEIN cordless SuperCut AFSC 18 QSL

1 plastic carrying case
Technical data
Battery voltage18 V
Oscillations10 000-19 500 rpm
Amplitude2 x 2,0 Degrees
Tool HolderStarlockMax
Tool changeQuickIN
Downloads