GRIT GI 100 EF
Basic belt grinder, 100 mm single-phase
Order no. 7 902 23 00 23 2
Back to overview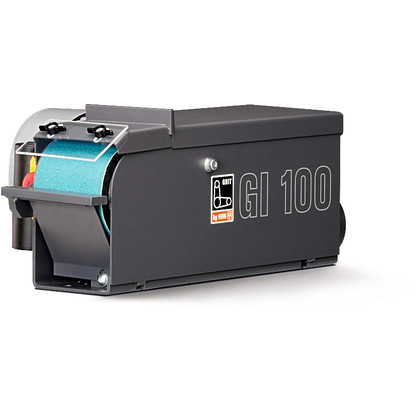 Powerful belt grinder in small format: for universal application on small workpieces
Modular extendable with sturdy machine base also with integrated extraction
Universally applicable belt grinder for smaller workpieces
Can be used as a table machine
Single-phase, alternating current version 230V / 50Hz
Suited also for mobile employment in workshop or assembly vehicles
Patented belt-tensioning system
Included in price:
1 grinding belt 100 x 1,000 (K 60 Z)
Technical data
Input1,1 kW
Current/Voltages1x 230 V
Speed, no load3 000 rpm
Belt size100 x 1 000 mm
Downloads
Grinding material Z
It's the all-rounder for grinding and deburring steel and non-ferrous metals which also satisfies the most stringent requirements. Developed in collaboration with professional users, this grinding material features an impressively long service life and high performance and is cost-effective to use. Heavy polyester fabric, fully bonded with artificial resins, with zirconium corundum.
100 x 1,000 mm