Progress since 1895
Since 1895 FEIN has invented and developed power tools that stand for maximum quality, performance and durability. To make your daily work go faster and easier.
Portrait and figures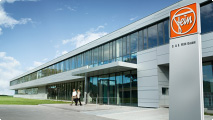 The world's first power tool was an invention of the C. & E. Fein GmbH company. 
Wilhelm Emil Fein founded the company in 1867. In 1895, FEIN invented the electric hand drill, the first power tool. Today this tradition-rich company is a power tool manufacturer with an international reputation and 900 employees, 530 of whom work in Germany. This first class German manufacturer develops and produces 
application solutions for the metalworking, interior construction, and automotive market segments and is the 
specialist for professional and extremely reliable power tools for trade and industry. 
FEIN holds more than 800 active industrial property rights, including approximately 500 patents and patent applications. 
FEIN markets its products through over 20 international subsidiaries and more than 50 distributorships 
world wide. For over 150 years, the FEIN brand has stood for application solutions and premium quality.
Brand positioning
FEIN is the specialist, when extremely reliable, professional power tools and 
special applications solutions are called for in the metal fabrication, interior construction, and automotive industries. As the inventor of 
the electric hand drill, FEIN has developed innovative and unbeatably efficient, professionally-oriented 
solutions for over 150 years. They prove themselves under the toughest continuous use in trade and industry.
The FEIN Core Brand Values
A brand is more than a name and a logo. A brand stands for certain values. Values that affected this brand during its development and make it successful. And that are found in the daily work of everyone who deals with the FEIN brand. Because the FEIN brand values are the things that we promise our customers. They determine the communication - from product development to the sales conversation.
FEIN numbers
Founding
1867
Patents and property rights
800 active property rights, including 500 patents and patent applications.
Personnel
company worldwide approximately 900 persons, of whom approximately 530 persons including 25 trainees FEIN Germany.
FEIN facts
Headquarters
Schwäbisch Gmünd-Bargau
Since July 2007 FEIN operates even more efficiently. All company departments are gathered together in the new company headquarters in Bargau.
Concentration at one location
Expertise bundling under one roof
Short paths for even better cooperation
Presentation / training in the core applications
FEIN is committed to Germany – our 15,000 m² production facilities in Bargau deliver "made in Germany" quality:
Motor production
Plastic injection molding and plastic component processing
Mechanical production
Assembly
Production warehouse