FEIN - Made in Germany and at home all over the world.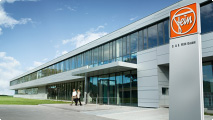 FEIN is committed to production in Germany. 
New, innovative product solutions are constantly developed here under ideal conditions 
and manufactured in Germany using the latest production methods. 
Comprehensive quality management and highly trained associates ensure 
that only those FEIN products that completely meet our own high expectations leave our plant. 
This is the only way we can be sure that our products always satisfy the high demands 
that are placed on them daily in tough continuous operation in trade and industry.

FEIN products are the standard for performance and reliability around the world. 
In order for our customers to always have an expert contact, we can be reached through 20 FEIN 
subsidiaries and 50 FEIN distributors worldwide. 
Everywhere FEIN power tools are in use, you will find trained professionals, fast 
service and expert advice.

You can find your local FEIN partner with the FEIN dealer search.
FEIN International
Subsidiaries:
Australia, China, Denmark, France, United Kingdom, Hong Kong, India, Italy, Canada, Austria, Poland, Romania, Russia, Switzerland, Slovakia, Spain, USA, and the United Arab Emirates.

Distributors:
Egypt, Argentina, Bahrain, Belgium, Bosnia-Herzegovina, Brazil, Bulgaria, Chile, China, Estonia, Finland, Greece, Hungary, Iraq, Ireland, Iceland, Israel, Japan, Jordan, Korea, Croatia, Kuwait, Lebanon, Luxembourg, Malaysia, Mexico, New Zealand, Holland, Norway, Oman, Pakistan, Peru, Philippines, Portugal, Qatar, Saudi Arabia, Sweden, Serbia, Singapore, Slovenia, South Africa, Syria, Taiwan, Thailand, Turkey, Ukraine, Venezuela, United Arab Emirates, Vietnam and Cyprus.